This year we will be retiring 2 Adult bullies from our program. Shyna and  Abracadabra
RDBs Shyna Spotlight On Me.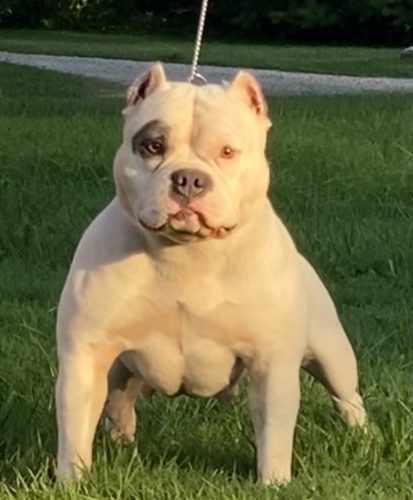 Currently 3 Years old, Not dog friendly with either gender but LOOOOVES people.
listens well, leash, kennel, house trained with no bad vices. She loves walks and cuddles on the couch. Shyna would be best in a low energy home with a family that doesn't travel much. She is not a fan of being in the car and prefers the comforts of her home and her people.
Shyna has been Vet checked yearly and is up to date on vaccines, worming and heart worm tests.
She does have seasonal allergies that require medication to keep her feeling her best.
If Shyna sounds like the right girl for you please send me an email and we can discuss her placement for the future.
RDBs Abracadabra "Abby"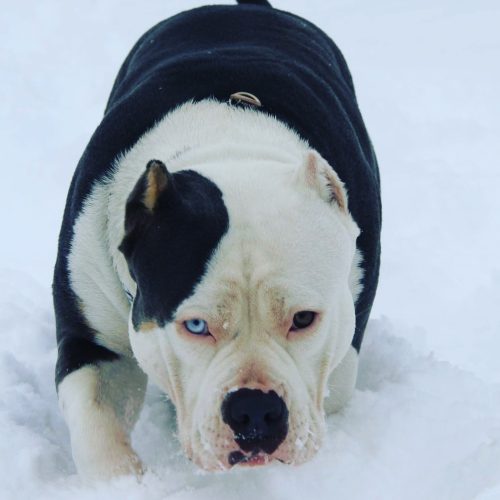 Abby is a beautiful classic Piebald Blue Tri with 2 different colored eyes, she's such a beauty!
She has been fine with both male and female dogs and puppies, we have a couple dogs she doesn't do well with but most of them are fine.
She just turned 2 years old, Leash, Kennel and House trained. She's a bit of a princess and once she's on the couch she turns into Glue and it's hard to get this comfy girl up 😂😂😂  She prefers to be the center of attention at all times.
She's the type of girl who will go all day so looking for a more active family for her. She's playful and sweet, so goofy! She's our Covid kiddo and a little scared once she's out in public (Hates dog shows with the loud speakers and loud music) But with some work and patience she would be a great all around dog. Vet checked and Healthy.